Tax season is underway in Canada, with the April 30th Canada Revenue Agency (CRA) filing deadline just around the corner. Many find this a stressful time, but it's not so bad if you know what tax slips you're waiting on, when they're due and what to do with the information they provide.
Investment income can come in many forms, including interest, foreign interest, dividends, foreign income, foreign non-business income, and certain other types, all of which must be reported by Canadian investors on their tax return. These amounts are typically shown on T3 and T5 slips.
T3: Statement of Trust Income Allocations and Designations
This slip is used to report income and credits that the trust made or designated to the named beneficiary. Income earned from a mutual fund trust, royalty trust, real estate investment trust (REIT) or Sovereign Investment Program will trigger the issuance of a T3 slip.
T3 slips break down income received from mutual fund trusts, which is the most common commingled fund structure in Canada, including interest, dividends, and capital gains. Each of them must be reported differently on an income tax return based on their varied tax treatment.
The income can come from personal investments or from an estate trust as an inheritance, if an investor was named as an heir.
Investors must receive T3 slips no later than 90 days after the end of a trust's tax year. For many mutual funds, the tax year end is either December 15th or the calendar year end, so these tax slips should arrive before the end of March for all mutual funds.
Tax-sheltered accounts are still just that, so investors will not receive a T3 for income earned on fund holdings in their RRSPs, RRIFs and TFSAs.
Financial institutions do not issue slips if the interest or "other income" (usually interest) is less than $50, or if dividends and capital gains are less than $1.
The numbered instructions on the reverse of the slip explain where to report any amount in that box and provide instructions on how to treat each one.
T3 – Front
T3 – Back
Note that Québec residents will receive a Relevé 16 in lieu of a T3.
T5: Statement of Investment Income
This slip is used to report various types of investment income, such as dividends from shares, interest on savings balances, royalties, annuities, bonds, and any other investment income from non-registered accounts with brokers or dealers.
T5 slips will generally include investment income from sources other than mutual funds — investments held directly by the taxpayer and any mutual fund corporation holdings. It indicates separate amounts for the different types of investment income received and any foreign taxes paid.
Most T5 slips are prepared and issued by the financial institution that holds or manages the income-producing assets. They are dually issued to taxpayers and the CRA.
Investors must receive T5 slips by February 28th of the year following the calendar year in which the income amounts were received.
Investors in U.S. dollar denominated money market funds should be aware that this interest income is not reported on a T5, regardless of whether the units are held in a Canadian dollar account or a U.S. dollar account.
As with a T3, investors will not receive a T5 for income received on holdings in their RRSPs, RRIFs and TFSAs.
Note that investors will not receive a T5 slip if the investment income amounts to less than $50, but they must still report this income to the CRA.
As with the T3, investors can just follow the numbered instructions on the reverse of the slip to know where to report any figures in that box.
T5 – Front
T5 – Back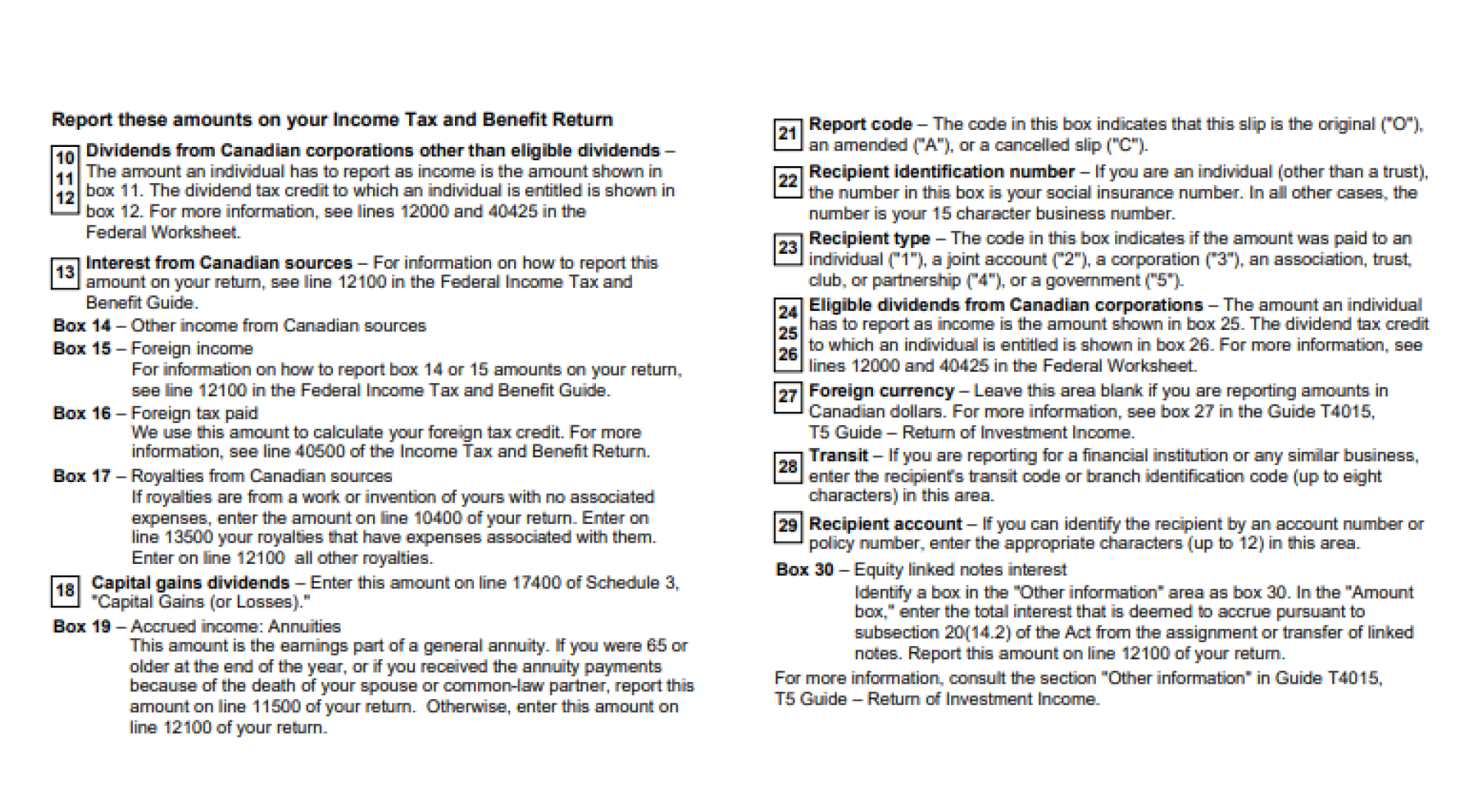 Note that Québec residents will receive a Relevé 3 in lieu of a T5.
T5008: Statement of Securities Transactions
This slip reports trading income and losses, from securities transactions completed during the year. Investors use T5008 slips to calculate the capital gain (or loss) that must be reported on personal tax returns.
Capital Gain/Loss C = A – B
A = Proceeds on sale of securities (from T5008 slip) &
B = Cost of securities sold (from account statements)
Investors should receive their T5008 slips by the end of February after the relevant tax year end.
The slip details securities transactions, whether purchase, sale, or maturity — as it relates to stocks, bonds, mutual fund units, options or option contracts, Treasury bills, promissory notes, debentures, and similar assets, all considered as securities.
Note that Québec residents will receive a Relevé 18 in lieu of a T5008.
What's the difference between a T5 and a T5008?
A T5008 slip details securities transactions, while a T5 is a statement of investment income. There could be some overlap between these slips, so investors are advised to consult with the issuers and/or an accountant to ensure they have everything straight and no income amounts get reported twice.
A special note about dividends
Dividends are tricky as some are eligible for the Canadian Dividend Tax Credit while others are not. And those that are eligible must be grossed up before being added to an investor's income.
The good news is that the government requires financial institutions to make this distinction and gross-up eligible dividends for inclusion on investors' T3 and/or T5 slips.
Closing notes
Some amounts on T3 and T5 tax slips may be shown in a foreign currency, meaning taxpayers will have to convert those foreign amounts to Canadian dollars in order to properly complete their tax return. Taxpayers can use the exchange rate on the transaction date or for recurring transactions taxpayers are able to use the average rate for the relevant year.
Investors should expect to receive slips from multiple parties if they deal with different brokerages and/or invest in different fund families or individual investments. Investors can also obtain these tax slips from their online CRA account as financial institutions are required to share them with the CRA. They should make sure that all slips have been received before completing a return — or sending everything off to the accountant.
They say two things in life are unavoidable — death and taxes — hopefully you're now a little less worried about the latter.